For the past several decades, Simpson Strong-Tie has made training customers a priority and has committed the resources necessary to provide some of the best training available in the industry. As the leader in structural system solutions, Simpson Strong-Tie continues to offer its customers the most relevant and up-to-date training programs to help improve product installations and reduce the cost of construction.
Training efforts are focused on improving building standards and the overall safety of structures. With regional training centers across North America, Simpson Strong-Tie provides hundreds of complimentary classes to engineers, architects, builders and code officials each year. The company trained more than 24,000 participants online and in-person in 2016 alone.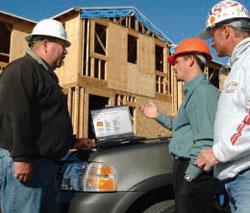 Course offerings include a broad range of topics from anchor system installation and engineered wood frame construction to seismic and high wind design. Simpson Strong-Tie also incorporates the latest building code updates and industry trends into its training curriculum. There are introductory courses as well as more advanced workshops for repeat and seasoned customers.
Full-day workshops typically are offered from 8 a.m. to 4 p.m. Classes are often tailored toward specific audiences to ensure that the training is appropriate and effective. Many courses are team taught by registered engineers to provide in-depth technical expertise in the subject matter. While much of the instruction is technical in nature, many real-life examples and hands-on demonstrations are provided to help attendees fully understand the material presented.
"The workshops are very interactive," explained Charlie Roesset, Director of National Training for Simpson Strong-Tie. "Depending on the course, students may have the opportunity to view product samples or take part in product testing and installations."
Training courses have been well-received by professionals within the building community. "There's no other manufacturer who provides such extensive training programs," said Roesset. "Specifiers and building officials have come to rely on these courses to keep abreast of the latest code updates and technical information."
Training participants receive a certificate of attendance with professional development hours (PDHs) at the end of each workshop, and may earn continuing education units (CEUs) and/or learning units (LUs) by completing additional requirements. Simpson Strong-Tie is a registered education provider with a number of industry organizations and associations including AIBD, AIA, ICC and IACET.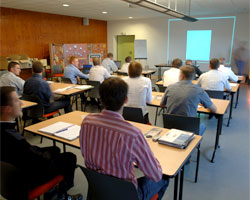 Samuel L., a civil engineer in Ohio, has been a regular attendee of Simpson Strong-Tie workshops. He says that he loves what the company does for continuing education and wishes other companies had the same attitude. "It isn't just clocking in for PDHs, you actually explain the ins and outs of why you do what you do. I hold Simpson in a much higher regard than many other companies for that reason…"
Workshops are regularly updated to reflect changes within the industry. For example, the number of soft story retrofit workshops on the West Coast increased with the introduction of new seismic retrofit ordinances in various municipalities, and after the impacts of the 2017 hurricane season in the Southeast, we expect to see more focus on high-wind design and flood and coastal construction.
In addition to its regional training workshops, Simpson Strong-Tie provides training at customer locations. The company' training program for builders brings training to the jobsite and covers essential information on the correct installation of Simpson Strong-Tie products. Training materials are offered in both English and Spanish. Learn more about the Builder Training Program here.
To sign up for a workshop and for more information about Simpson Strong-Tie training programs, including new online courses, visit www.strongtie.com/workshops.